There was a time when growing marijuana in Oregon was so covert that people clandestinely planted their pot in secret rooms, basements and even in their closets. Times have changed dramatically. Now, you can see people renting out huge warehouses and outdoor plots cultivating hundreds of marijuana plants legally. Now, there is so much marijuana in the State that there are many friends and acquaintances who give away pot for free. It's, indeed, a wonderful time to be a pot user in Oregon.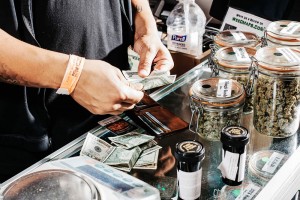 Supplies proliferate as there are medical marijuana dispensaries just around the block which offer very low prices. It's truly amazing for the consumers but owners of these dispensaries are not that ecstatic. There are so many dispensaries now and more are opening everyday to the point of saturation. Marijuana industry in Oregon is already crowded and it will become more crowded as recreational sales begin in the Fall. The industry is imploding and it is beginning to be a victim of its own success.
Reports show that more than 300 dispensaries are already open in Oregon. When voters legalized recreational marijuana in November, the State received 411 new dispensary applications which would add to the glut. With this overcrowding, some storefronts have already closed.
If dispensary owners have these problems, imagine the predicament of marijuana growers who are more in numbers than dispensaries in Oregon. There are so many growers that most dispensary owners become more discriminate on testing and quality issues, but most is turned away because there is just so much in the stockpile. Perhaps, the sale of recreational marijuana through dispensaries starting in October will help stabilize the supply and demand unbalance. Another factor aggravating the oversupply is the fact that every residence can now legally grow up to four plants and these self-growers are not predisposed to get their cannabis from the storefronts.
Among other States, Oregon has the smallest hurdle for entry into the marijuana industry, and a great place to cultivate pot. These, plus the fact that everyone wants to have a bit of the action, creates a very crowded cannabis scene. Competition is so stiff that those in the industry, or planning to get in, will need to step up their game. Branding is CRUCIAL in the Oregon cannabis industry. Any company that does not have a good branding strategy will have to grapple with the competition, no matter how good the quality of their products are. Simply "existing" in an overly-competitive industry is not enough and players must recognize the importance of a distinguished brand from the never ending supply of other brands.